Amazon WorkSpaces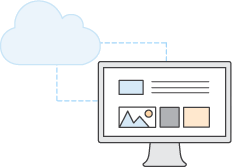 Amazon WorkSpaces is a Desktop-as-a-Service (DaaS) solution on the AWS Cloud that can be integrated with your existing infrastructure
Why choose Consegna and Amazon WorkSpaces?
---

Secure

With Amazon WorkSpaces, your deskops and mission-critical data are hosted on the AWS cloud, and never on end-user devices, allowing you to embrace virtual deskops and bring-your-own-device (BYOD) practices with the confidence that your data is secure

---

Familiar

Your users can access familiar desktops with full fidelity from the device of their choice. WorkSpaces integrates with your Active Directory so users can use existing credentials to access organizational resources.

---

Easy to Manage

The Amazon WorkSpaces admin console allows you to easily add or remove users, and Amazon WorkSpaces Application Manager simplifies the deployment and management of applications.
Introducing Amazon WorkSpaces

Amazon WorkSpaces turns your corporate desktop environment into an easy to use, managed cloud service, providing your users secure, convenient access to the applications, documents, and resources they need, on the device of their choice from anywhere with internet connectivity.

Click the video to the right to learn more >>
What can you do with website hosting from AWS and Consegna?
Secure

When users access their desktops using Amazon WorkSpaces, a remote display protocol is used to compress, encrypt, and encode data so that only images are transmitted.

See FAQ on WorkSpaces security >>
Resources
---

AMAZON WORKSPACES ADMINISTRATION GUIDE

---

AMAZON WAM USER GUIDE

---

AMAZON WORKSPACES FAQ
At Consegna, we assist our clients by providing them with a fit for purpose Cloud experience. Our approach is a completely collaborative one, which recognises each client's unique requirements and challenges. We provide a customised Cloud strategy, formulate an outcomes focussed Cloud migration roadmap, and offer support to our clients every step of the way.

Contact Us
© 2017, Amazon Web Services, Inc. or its affiliates. All rights reserved.
This message produced and distributed by Consegna | Level 26, PWC Tower, 188 Quay St, Auckland, New Zealand, 1010
This correspondence is for the named person's use only. It may contain confidential or legally privileged information or both. No confidentiality or privilege is waived or lost by any mistransmission. If you receive this correspondence in error, please immediately delete it from your system and notify the sender. You must not disclose, copy or relay any part of this correspondence if you are not the intended recipient. Any views expressed in this message are those of the individual sender, except where the sender expressly, and with authority, states them to be the views of Consegna.Cloud Limited. This email has been virus checked.